1.Navigating Zone & Application
This boat is one kind of the open sea fast patrol boat which to be used in the rescue system by ministry of communications. It normally to be used for rescue、fastpatrol、fire fighting、deal with accident etc in the adjacent sea area(within 100 sea miles)
2.Main Data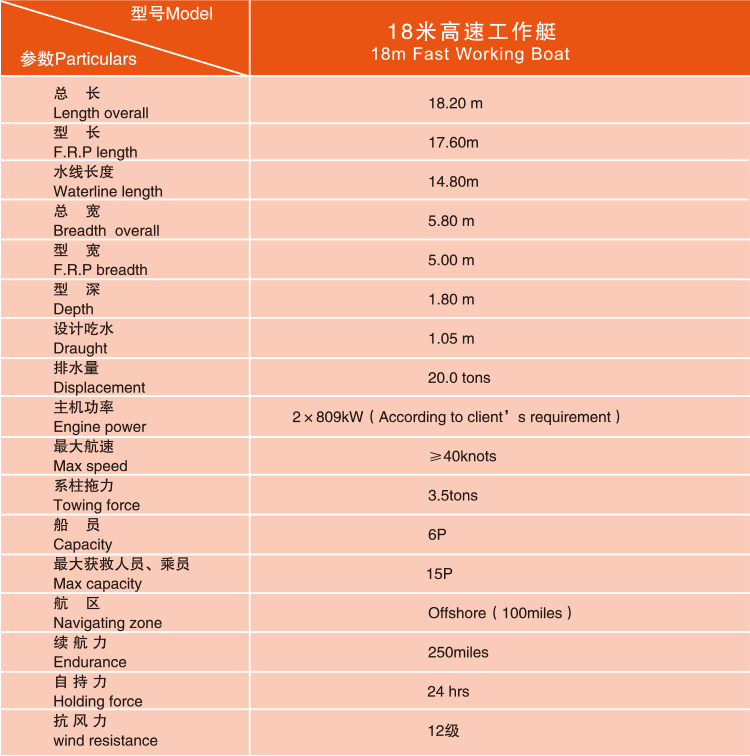 3.General Arrangement Description
The main deck is the continuous flush deck. The deckhouse is at centre- back. Below is engine room. The rescue deck is near the waterine. When the boat with the full load and low speed navigating. The lower deck can be rescued the men overboard.
4.Functional Characteristic
1、The hull is a deep V with convex section, vigorous & beautiful appearance, smooth & fast lines. Linear after optimization is more suitable for offshore operation. It has an excellent navigation, security, wavekilling, maneuverability and windresistance . It takes effective measures to control the vibration and noise.
2、With dual motors, hydraulic steering, this propulsion system can make the boat move faster & have an excellent steer ability.
3、The walk around deck has an anti- slip surface without steps. Reinforced handrails are surrounded except the rescue platform. Bow access is in the boat.Handrails are raised next to the gunwale to increase the security.
4、A water cannon arranged on the bow is used for fire fighting.
5、Two bollards arranged on the both side of bow are used for docking. A towing hook arranged on the stern is able to tow 3,500kg.
6、There is a water tight store-room under the bow. It is used for goods storage.
7、There are large acreage safety windows around the control room which with the safety door in the stern of a boat.
8、Reinforced mast is installed on the top of wheelhouse, with alarm lamp, GPS & radar etc.
9、There is a field of view window at the front lower place of wheelhouse which in the rescuers' restroom.
10、The after deck is the rescue area. This deck height is close to the water line. It can easy to rescue the man overboard. At the stern to install the rescue equipments(ife raft etc.)
11、Engine room is arranged under the stern deck. There are hatches for fixing the engine.
12、Fender is installd around the broadside (except the rescue platform). Hull can be protected from impacting.
5.Distinctive Chrarcteristics

A: LARGE WHEELHOUSE SAFETY WINDOWS WITH VERTICAL VIEW
B: INTERIOR AREA FOR RESCUE PERSONNEL
C: FORE STORAGE/WATERTIGHT VOL UME
D FIRE FIGHTING WATER CANNON
E: DEEP V HULL
F LARGE AND SOLID ALL AROUND FENDER
G: RESCUE AREA
H: LIFE SAVING APPL IANCE
|: TOWING BOLL ARD
J WHEELHOUSE FOR FIVE CREW

A AFT WORKING DECK WITH ENGINE ROOM HATCHES
B WAL .K AROL JND WITHOUT STEPS
C FORE WORKING DECK
D BOW ACCESS
E: WATERJET PROPUL .SION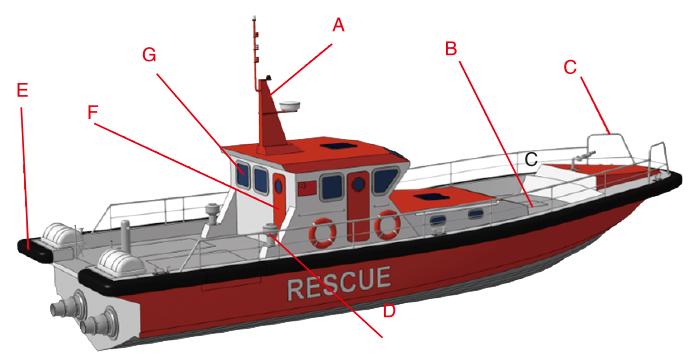 A: REINFORCED MAST
B WATERTIGHT STORE FOREHATCH
C: REINFORCED HANDRAIL S
D: WATERTIGHT E R AERATIONS
E: STERN FENDERS
F: STERN PROTECTED ENTRANCE
G STERN VIEW FROM WHEEL .HOUSE